By Sarah Radin, Product Marketing Manager, Securonix
CISA has sent out a notice to be on alert for major cyberattacks as the war in Ukraine progresses and to be ready to respond quickly to any incidents. This is in addition to protecting your organization from the ongoing growth of ransomware and other evolving exploits. One can hope organizations are heeding these warnings, but awareness and vigilance are not sufficient without the right tools and people. 
This is especially true if you consider this eye-opening statistic from Cybercrime Magazine, November 9, 2021: The number of open security positions in 2021 was enough to fill 50 NFL Stadiums. In fact, in the US alone, a whopping 465,000 of the cybersecurity workforce of 950,000 jobs are currently unfilled, up 350 percent from 2013. More than 106,000 current job openings require CISSP certification, but nationally there are only about 90,000 CISSPs total. This lack of security staff and expertise makes catching and responding to intrusions challenging, time consuming, and stressful for current SOC staff members. 
Cyber Professional Shortage Leads to Burnout
Why is there such a shortage of cybersecurity talent? In a report The Life and Times of Cybersecurity Professionals 2021, by the Information System Security Organization and the Enterprise Strategy Group, many of the almost 500 security professionals interviewed cited an underinvestment in cybersecurity pros in their organization. Nearly one third of respondents thought their organization could be doing much more to address the skills shortage and 59 percent said more. Thirty-eight percent said organizations are not offering enough compensation. In fact, being offered a higher compensation package is why a third of cybersecurity professionals leave their current positions.  
The shortage produces cybersecurity staff burnout and becomes self perpetuating. In the same survey, 62 percent of respondents cite an increasing load on the cybersecurity team and 38 percent cite high burnout among the staff. Ninety-five percent say the cybersecurity skills shortage and its associated impacts haven't improved over the past few years. The attrition costs in both dollars and lost productivity and knowledge can be high and bad for business. 
And finally, the pandemic hasn't helped things as businesses have moved to a more vulnerable remote work model. Fifty percent of cybersecurity respondents say this new model has led to more stress. Particularly challenging in the wake of increased remote work, according to an article in ZDNet, is the acceleration of the use of the cloud. Thirty-nine percent of respondents say their organizations are struggling to fill cloud security positions. 
More Automation is Needed
How can organizations cope with staff shortage and burnout amid mounting cybersecurity threats and new attacks? For many, the answer is more automation in their cybersecurity infrastructure, particularly in response, which is where Securonix comes into play. Technology can never replace the human element, but Securonix Autonomous Threat Sweeper (ATS) can empower your staff to stop more threats with less manpower and focus on the highest-priority issues rather than mundane, repetitive tasks. Doing so not only enhances your organization's security posture, it can boost job satisfaction and staff retention. 
Recently the European Union made the decision to deploy a Cyber Rapid Response Team (CRRT) to Ukraine to help its institutions respond quickly to a growing stream of cyber threats. Securonix ATS can act as air cover for your own organization's cyber rapid response team, making a big dent in the 40 to 80 hours per month they spend on average chasing and responding to 30 or more new threats. Check out this infographic to get a good picture of how ATS works and where it can fit in your organization.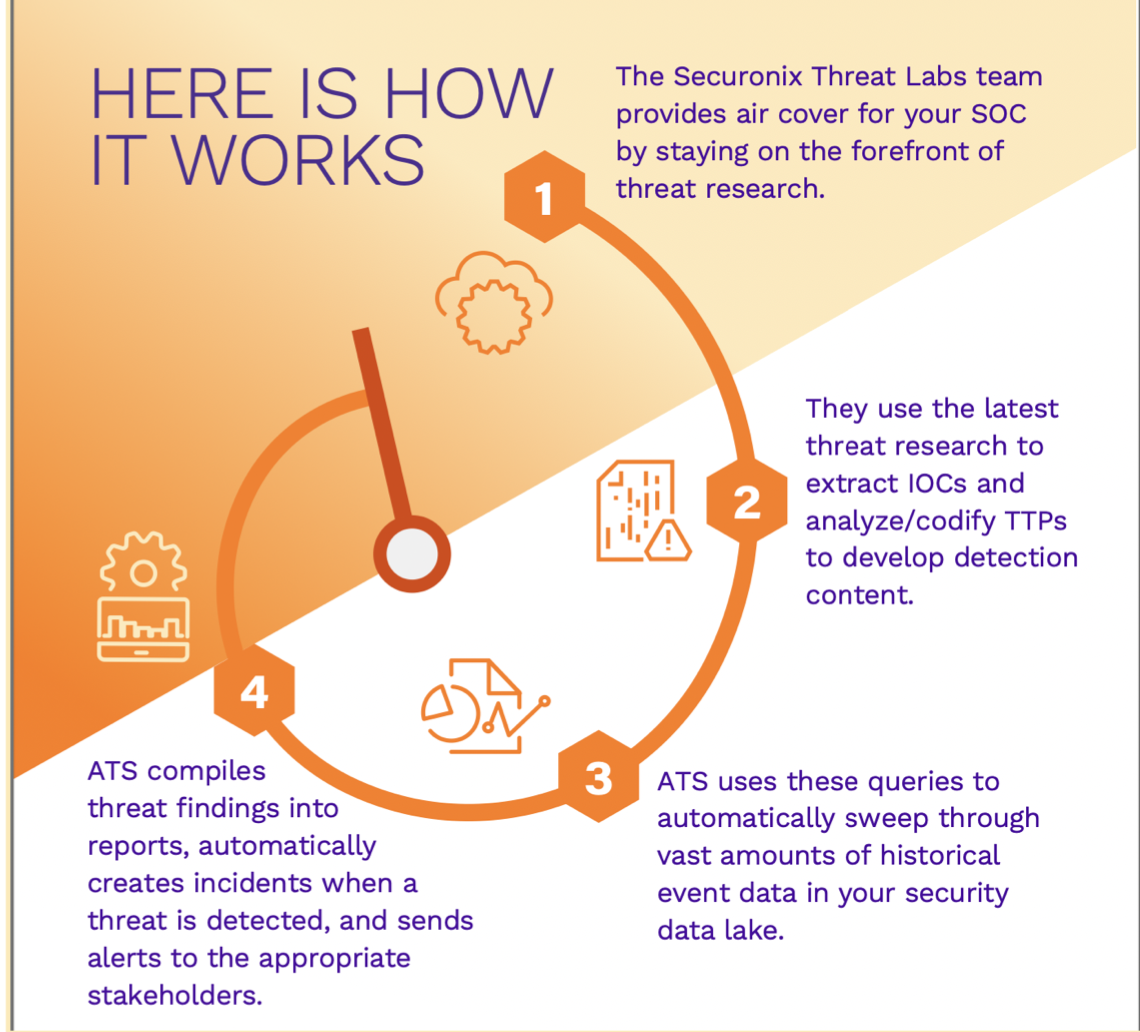 ATS leverages the latest threat research from Securonix Threat Labs to automate assessing your exposure and initiating incident response. Combining human-driven threat intelligence curation with autonomous and automated post-hoc detection, it empowers your team with the ability to 
Stay ahead of emerging and developing threats 

Prioritize the threats that pose the most risk

Know if your IT infrastructure has been exposed

Accelerate cyber rapid response with automated reporting, alerting, and incident creation 
ATS extracts indicators of compromise (IOC) and analyzes threat tactics, techniques, and procedures (TTP) and uses this information to query huge volumes of your present and historical event data for signs of intrusion, detecting even the low and slow threats that other tools miss. And it keeps doing that in the future as threats morph and new IOC and TTP information surfaces. It also creates threat reports and incidents when a threat is found and sends alerts to the appropriate stakeholders. The time savings, which is as much as 50 percent or more vs. manual methods, can be invaluable for resource-stressed security staff, which can now focus on the threats that are most critical.
Read more about this new service here and give your security staff the competitive advantage they need to protect your organization.