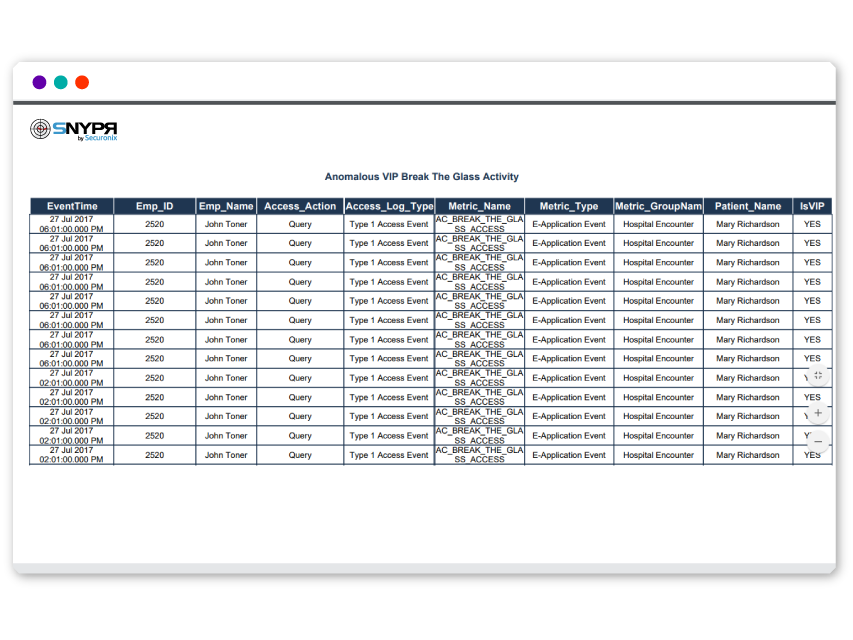 Compliance and Reporting
Securonix is HITRUST CSF certified. Securonix provides out-of-the-box reports for compliance monitoring. Reports can be run on a schedule or run on an ad-hoc basis and cross-references globally recognized standards and business requirements including: HIPAA, PCI, NIST, ISO, and state laws for comprehensive security controls.
Reports can be exported or emailed to designated recipients. All major data formats are supported, including pdf, xls, doc, xml, and csv.
"Securonix is providing us actionable intelligence on threats related to patient data privacy. Our security and privacy teams are more efficient in investigating such threats thus improving our overall HIPAA compliance posture."
Blog

Improving Your Blue Team's Ability To Detect Threats With Enhanced SIEM Telemetry

Learn More

Solution Brief

Threat Coverage Analyzer

Learn More

Blog

What Being on the Inc. 5000 List Means for Securonix – This Year

Learn More
Request a Demo
Protecting patient data is essential, and Securonix can help.  We help you increase your EMR application security by leveraging the latest advances in machine learning and AI to baseline normal behavior patterns and alert you to compromise. 
Collect relevant events from major EMR applications.

Detect suspicious patterns in EMR data that could indicate a cyberattack.

Leverage robust reporting to visualize activity and stay compliant.