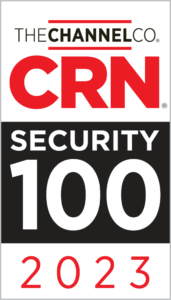 We are proud to announce that CRN®, a brand of The Channel Company, has named Securonix to its annual Security 100 list. The Security 100 list recognizes leading IT channel security leaders that deliver a combination of channel focus and trailblazing, innovative technology to solution providers.
The team at Securonix takes much pride in this accomplishment – especially after being named to CRN's 2023 Cloud 100 list last month. Our industry-leading Security and Analytics and Operations platform provides Next-Gen SIEM, UEBA and SOAR capabilities to meet modern security teams' demand for cloud-native, autonomous platform solutions that provide best-in-class analytics and flexible cost-effective cloud deployment models.
Recipients chosen for this year's Security 100 list have been specifically selected by CRN editors for their outstanding channel-focused security offerings across five categories: Identity Management and Data Protection; Endpoint and Managed Security; Network Security; Web, Email and Application Security; and Security Operations, Risk and Threat Intelligence. This list serves as a comprehensive guide for solution providers, helping them to identify the top security vendors to team with as they build innovative solutions for their customers.
"With all the unexpected changes organizations have faced since the beginning of COVID-19, security still remains the most critical factor in business today. This year's Security 100 list acknowledges industry-leading companies that deliver pioneering security offerings to the IT channel that can withstand a wide range of threats. These companies are laying the groundwork for the most advanced cybersecurity solutions," said Blaine Raddon, CEO of The Channel Company.
Over the last year, Securonix has added to its unparalleled history of innovation in cybersecurity to protect our customers, regardless of size or maturity, from emerging and existing threats. This includes:
Securonix has established itself as the clear industry leader and we're looking forward to what the rest of 2023 holds. While global organizations face increasing threats across a larger attack surface, we certainly have our work cut out for us, but we know it will be another exciting year ahead.