Rapid response is essential to mitigate the risks of cybersecurity threats. However, many security teams leverage poorly integrated SIEM and SOAR solutions, adding unnecessary complexity to threat detection and response.
Securonix SOAR blends seamlessly with our existing Next-Gen SIEM and Open XDR offerings, providing analysts with a single workflow to cover threat detection and response. Many SIEM and SOAR vendors claim to have a converged solution, but often the SOAR is not native, resulting in context-switching and complexity for analysts. Unlike many SOAR products in the market, Securonix SOAR is built-in the SIEM, not bolted on, allowing analysts to respond to threats at scale with minimal noise and less manual effort.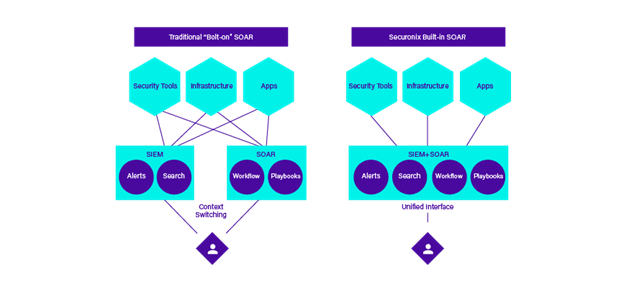 Securonix SOAR introduces new capabilities to enable faster detection and response of advanced threats and offers more efficiency for our customers and partners. Let's explore the most exciting benefits and features.
What's inside?
Streamline Investigations
In a SOC, where every second counts, rapid response is essential to mitigate cybersecurity threats. That's why Securonix helps your team work smarter, not harder. Our Gartner-recognized Next-Gen SIEM is seamlessly integrated into our SOAR offering, making Securonix the only Magic Quadrant Next-Gen SIEM vendor to offer SOAR natively. Our integrated platform simplifies the analyst experience and streamlines the end-to-end incident response cycle with a seamless workflow for threat detection, investigation, and response.
Feature | Automated Playbook Actions
SOCs need security orchestration and response to be deployed quickly and immediately to receive value. Our SOAR comes with pre-built playbooks that cover the most common use cases, such as phishing, ransomware, and malware, out of the box. We also give you the flexibility to easily create your own use cases with our flexible, user-friendly Playbook Designer tool. Analysts, senior and junior alike, can accelerate incident response with an easy drag and drop UX for playbooks, that requires no coding experience.
Feature| Embedded SOAR
Many security teams work with poorly integrated SIEM and SOAR solutions, adding unnecessary complexity to threat detection and response. No one wants to continually context switch. That's why our SOAR was built to be a seamless extension to our Next-Gen SIEM and Open XDR offering. Security teams can easily incorporate response playbook actions directly into the SIEM policies without having to switch screens or tools. The result? Streamlined detection and response in a single workflow.
Feature| Multi-Tenancy for MSSPs
Securonix supports streamlined response actions in a multi-tenant environment, enabling analysts to take actions across multiple tenants from a centralized console. This capability is valuable for managed service providers and large enterprises alike that use Securonix to support multiple diverse customers or businesses.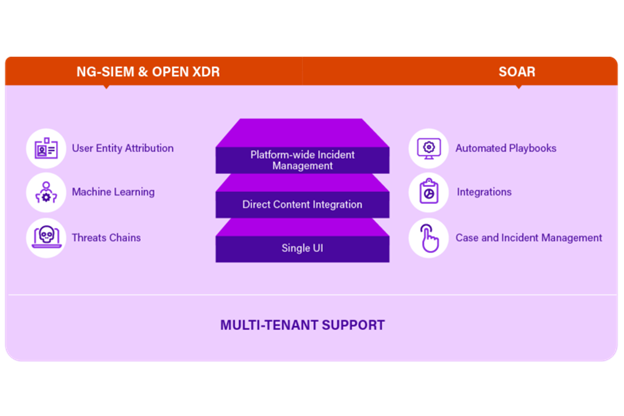 Respond to Threats at Scale
Securonix SOAR was built in the SIEM, not bolted on, so you have zero infrastructure to manage, and unlimited scalability. Our unified platform consolidates data sharing and delivers threat detection and response in a cloud-native architecture that evolves with you as you grow.
Feature | Cloud-Native Architecture
Dedicate more resources to detection and response and less to managing your infrastructure. Built with a pure, SaaS architecture, security teams can easily add on SOAR as a seamless extension of our SaaS platform for better ROI and fast time to value.
Feature | Vast Integrations
Our platform is built with an open and modular architecture to support a vast partner ecosystem. Securonix SOAR lets you execute end-to-end incident response and scale playbook actions with the orchestration of best-in-breed tools like EPP, EDR, next-gen firewalls, and more.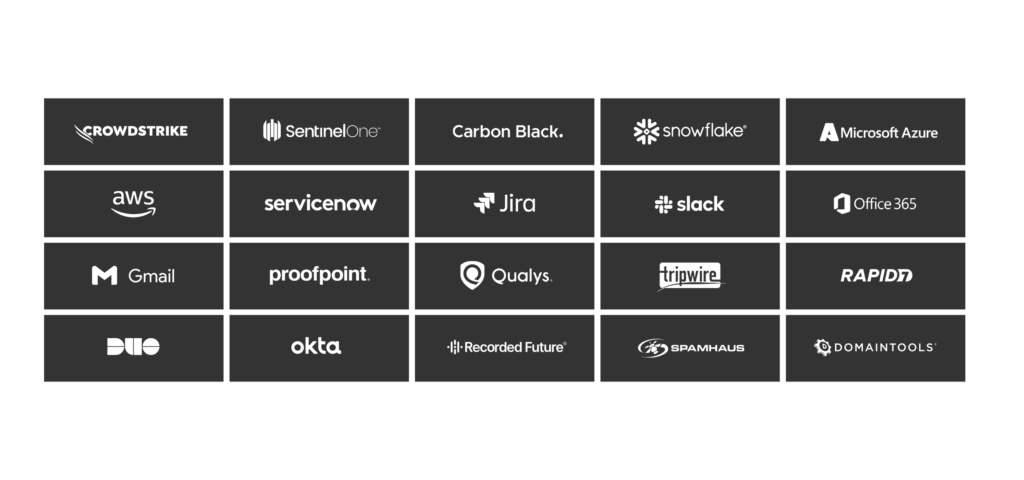 Maximize your Security Operations Investment
It is essential for security leaders to be able to demonstrate the return on investment (ROI) of their security solutions. Securonix helps keep costs predictable with flat pricing and ensures a strong ROI with helpful reporting and free threat content that keeps your security team on the vanguard of new and emerging threats.
Feature | Simplified Pricing
As organizations evaluate security in the cloud, they are looking for solutions that can optimize costs while still providing best-in-class security capabilities. That's why Securonix is simplifying licensing by providing a flat pricing model that allows for unlimited analyst usage at no extra cost.
Feature | Content-as-a-Service
Many security teams must focus on alerts and security events affecting their organization each day and aren't able to dedicate resources to researching emerging threats. Securonix SOAR customers gain free access to consistently updated threat content through a one-click opt-in process. This enables new integration and playbook content to be updated regularly to keep them updated with SIEM and XDR detection content for new active threats.
Feature | Reporting and Dashboards
SOC managers need metrics to show security program improvement over time. Securonix gives you access to robust dashboards that help you understand and improve the performance of your SOC while increasing your return on investment (ROI). In combination with Securonix SIEM and Open XDR, our SOAR offers a single view for detection and response reporting. This helps your SOC understand gaps and identify and address constraints in your security operations process.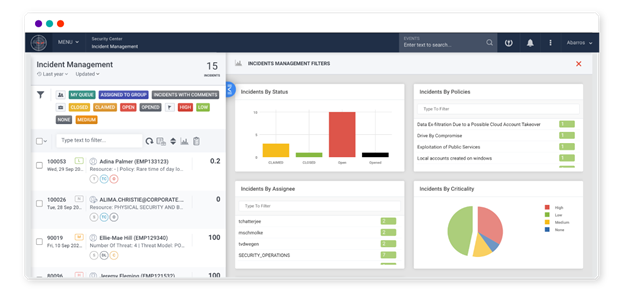 Check it out!
This blog post just scratches the surface of what's available. If you are a Securonix customer and want additional details, please reach out to your Customer Success Manager to learn more. Additionally, you can join us on our webinar and hear from our experts as they walk through the new product.
If you're not a customer, and you want to learn more, feel free to schedule a demo with our experts