By Nagesh Swamy, Product Marketing Manager, Securonix
More than a quarter of organizations already have invested in SIEMs, while just under a quarter plan to make a substantial investment over the next two years—and the numbers are even higher among organizations  with a higher level of NIST maturity. The new ThoughtLab report "Cybersecurity Solutions for a Riskier World" shows that more than 4 in 10 respondents intend to augment or replace their current SIEM while 17 percent of the firms polled have already made a SOAR commitment, and another 17 percent plan to invest significantly.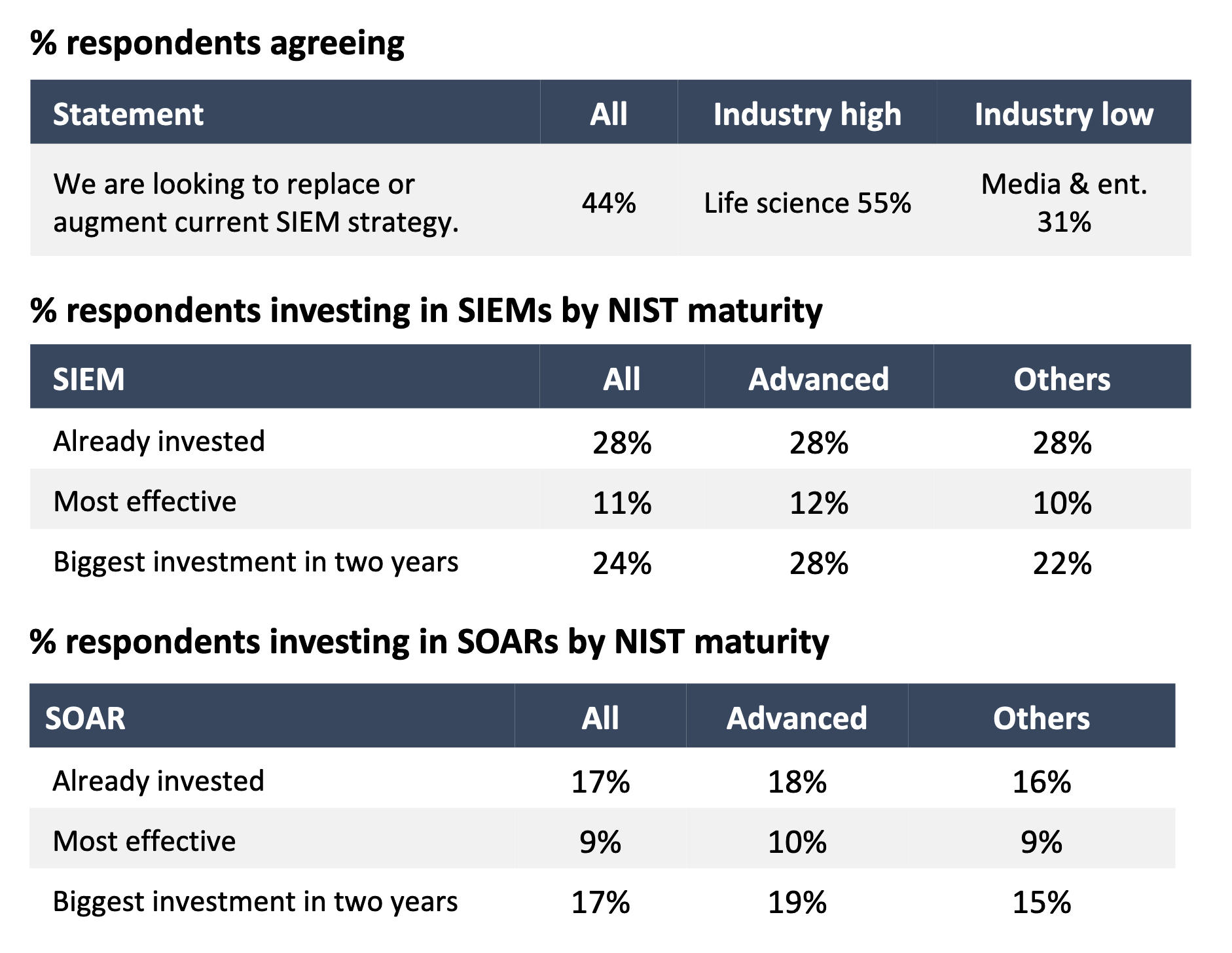 Some of the key points and conclusions of the report seek to determine how organizations can improve threat detection and response using SIEM and SOAR solutions. According to the report, most organizations need to pay closer attention to detection, a critical tool in the cybersecurity arsenal. This is underscored by the fact that, according to our survey, it takes organizations over four months (128 days) on average to detect a breach—a delay that can be extremely damaging and costly. We'll take a look at how investing in advanced SIEM and SOAR platforms can help remedy this. 
Protect against growing cyber risks
The complexity of modern technology is a challenge for security personnel to manage. According to the report, 22% of executives surveyed say that increased cloud usage has exposed their organization to a new set of cybersecurity risks. Chief compliance officers (31%) and CROs (30%) are particularly worried. 
Some of the challenges using traditional SIEMs include security teams becoming blind to the dynamic changes in IT or cloud infrastructures due to a lack of visibility into their environment. Alert fatigue is another significant issue that security teams have to cope with. Many organizations often deploy several security solutions, each of which produces its own alerts. Security analysts need to be able to cut through the noise and detect which ones are true incidents versus false alerts. This makes investigation and detection times longer, and, in most cases, organizations have lean resources that makes it a nightmare to deal with cyber risks. 
Mandy Andress, CISO at Elastic says "As workloads migrate to the cloud, monitoring cloud deployments becomes essential to the business. Some older SIEMs needed a lot of care. Today's IT environments provide a firehose of data. While traditional SIEMs can ingest a lot of data, they don't always embed advanced analytics; it could take hours or days to analyze that data, which impacts the ability to quickly investigate suspicious activity."
Choosing the right SIEM becomes critical to protect an organization against cyber risks. A Next-generation SIEM has various advantages, including quicker threat detection and superior security data, be it in a cloud/hybrid or on-premises environment. Securonix Next-Gen SIEM is powered by security analytics at cloud scale, providing end to end visibility, continuous security monitoring to detect threats faster and more accurately, and reduced false alarms.
Bringing SIEM and SOAR together for better detection and response
While SIEM systems provide greater data visibility and alerting capabilities that reveal threats, SOAR technologies address the subsequent phases of swift incident investigation and remediation. Organizations may tackle sophisticated attacks more effectively with the use of next-generation SIEM and SOAR technologies together. However, a lot of security teams use SIEM and SOAR solutions that aren't well integrated, which adds extra complexity and potentially slows down threat detection and response. 
Consolidation – "A Platform-centric Approach"
The report cites that around one-third of organizations intend to address a proliferation of cyber tools and infrastructures by consolidating them. Nearly a third of organizations also are adopting technologies that bring together capabilities that work as a platform, rather than relying on individual "best in breed" components.
Consolidation not only boosts efficiency but results in cost savings. As they evolve and become more sophisticated in cybersecurity, private and public entities are increasingly looking to adopt an efficient and cohesive approach to ensure that all parts work well together. 
Securonix takes a similar approach to consolidating SIEM and SOAR to combat advanced threats faster. The lines between detection, investigation, and response are blurring as threats are becoming more complex and harder to trace. As detection and response processes converge, your technology needs evolve to keep up with these unified and streamlined processes. For this reason, automation and orchestration are most effective when SOAR playbook actions are embedded directly into the SIEM workflow. This allows analysts to experience minimal context switching and ultimately allows them to speed up investigations and improve their mean time to respond (MTTR). The recent eBook, " Respond to More Threats Faster: The Benefits of Embedded SOAR",  discusses the importance of an integrated SOAR that is built in to the SIEM, not bolted on, and looks at the benefits of an embedded SOAR.
For more, read about how you can take advantage of SOAR to provide a quicker and more coordinated response to security events, and decrease your reliance on overburdened security and SOC response teams.
To get a better understanding of how improving detection, analysis, and response through SIEM and SOAR can improve your security posture, download the ThoughtLab report here.